Big Bits2u Youtube Concours
Feb
24
2018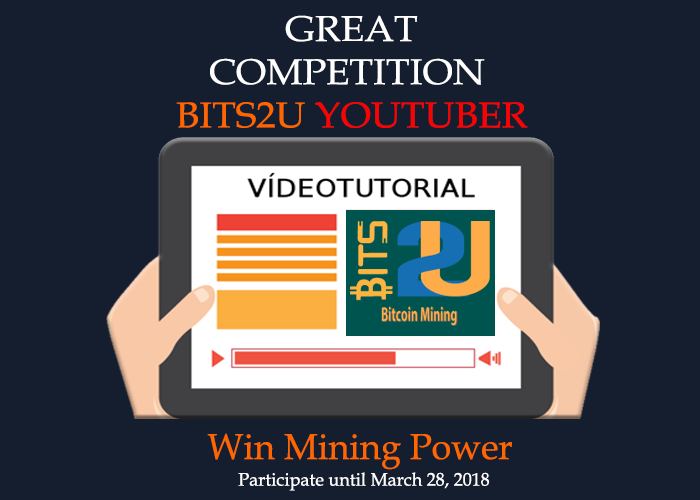 Hello dear users, if you are someone who love to make videos on YouTube tutorials
on criptomonedas, this is your opportunity to participate in the contest Bits2u is performing from today until 28 March.
What is the competition?

The contest consists of making a video tutorial company Bits2u in the most creative way.

For example:
Brandnames to Bits2u as investments in mining page Cloud cryptocurrency.
A tutorial explaining how to use Bits2u.
These are examples around, you are free to create your best video.
How the best video will qualify?

The videos will be graded as follows:
You must have a YouTube channel and post your video on your channel.
Have excellent video quality.
Creativity in the video.
The subject should only be based on Bits2u page.
Rules:
Only a video for a user in Bits2u and a proprietary channel of the same user and the same language is allowed.
Video can only be performed in Spanish, English or French, but if your native language is other than Spanish, English or French, can make a video in your language, but subtitles in either of the 3 languages ​​mentioned; Just pick a language as subtitling, but not 3, just so you can participate.
Video can last as long as it deems appropriate.
It is not allowed to publish your video on any Facebook page Bits2u, but you will be disqualified.
No inappropriate videos you do not have to do with the subject of investment Bits2u allowed.
Only allowed to participate once per language.
You have until March 31 to submit your video tutorial to 23 hours and 59 minutes on the same day (GMT -5).
You are free to post your video on any of your personal social networks or to make your video promotion.
If the winner result, your video will stay on the page and blog Bits2u far Bits2u sees fit.
Your video must be recent from since this contest is announced until the completion date therefore not old videos are allowed.
What you get for doing a very creative video?

The winner will receive:
601

2uhash

power mined and one 2uBueno rise (If you are in a less level).
your video will be posted on our blog and Bits2u page.
If you have Google Adsense on your YouTube channel you will benefit by increasing your visits.

Important:
You will need to provide the following address:

[email protected]

the link of your video must be posted to your YouTube channel and your mail user Bits2u.
There are no published comments.